HD Forum Italia: satisfaction for the success of 6° HbbTV Symposium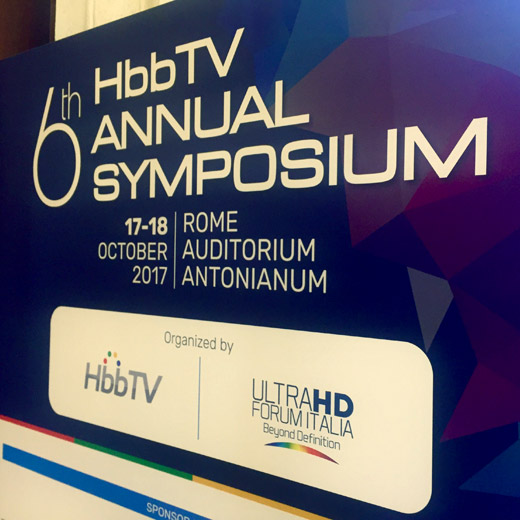 HD Forum Italia expresses great satisfaction for the success of 6th HbbTV Symposium, held in Rome on October 17 and 18, at the Auditorium Antonianum, jointly promoted and organized by HbbTV and HDFI associations. Strengthening the link between the two entities, the event has allowed to orientate the technological path towards TV innovation, along a European dimension.
We registered more than 260 attendees, 40 speakers, widely representing the value chain of the audio-visual segment and 18 sponsors that animated a valuable exhibition area. Furthermore, thanks to the involvement of several representatives of the news sector, a vast remote audience of readers and viewers has been given visibility of the work done so far by the Italian technology media industry.
In the exhibition space, the new HbbTV2 platform has been shown at work in numerous demonstrations that have allowed 'to touch' the latest generation of interactive services through SmartTV and advance set top boxes. "The TVs that we will find in the Italian stores shelves in the coming months", says Benito Manlio Mari, president of HD Forum Italia, "are the result of a new paradigm driven by technological convergence. The keywords are: Ultra HD, interactive, and hybrid. Also, multiplatform, since content feeding is jointly assured, in a way that is seamless for the user, by all signal distribution networks: digital terrestrial, satellite and IP." Thanks to the work of HDFI, which is going to give soon its latest fruit with the Ultra HD Book 1.0, the TV becomes a holistic terminal by all effects.