The TV of the future: curved screens, OLED, holography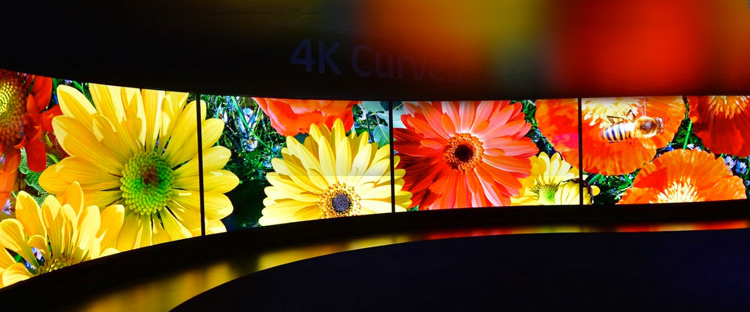 Photo courtesy of Panasonic
At CES 2014 in Las Vegas, one of the largest consumer electronics trade shows, a strong trend emerged for the next generation of televisions: the curved screen. This shape offers a wider field of view than the flat screen, with a panoramic effect that makes images larger, more vivid, and more realistic. The screens presented at the U.S. show were obviously very large (over 70 inches) with high-end 4K definition, but it is reasonable to think that the curved screen will be one of the next trends for TV manufacturers.
Another future frontier of great interest to most consumers is OLED TV. OLED stands for Organic Light Emitting Diode. A screen made with this technology, unlike a liquid crystal screen, emits its own light. OLED screens are thinner, perhaps even foldable (another of the wonders the future holds), and they are environmentally friendly, meaning they consume less energy. From the perspective of picture quality, suffice it to say that OLED TVs offer what currently comes closest to a cinematic image.

The future holds even more sophisticated and incredible surprises. Like 8K, the standard that quadruples the performance of Full HD with a resolution of 7680×4320 pixels. Japanese state broadcaster NHK recently announced plans to broadcast the 2020 Tokyo Olympics to the world in 8K. To achieve this goal, NHK plans to refine the trial by launching a single test channel in 8K format for the 2016 Olympics in Rio de Janeiro.
Traditionally, major sporting events have been the preferred vehicle for introducing technological innovations. By 2022, when the World Cup will be held in Qatar, it is already expected that once again thanks to NHK, we will have holographic televisions, or the full 3D effect: a three-dimensional image projected into space immediately in front of the viewer. Today it sounds like science fiction, but it could be that in 2022 we will go to an Italian soccer stadium to watch a game that is being played at that very moment thousands of kilometers away in Qatar, and broadcast on the field right in front of us.