HD Forum Italia brings the General States on September 27th and 28th 2018 in Salerno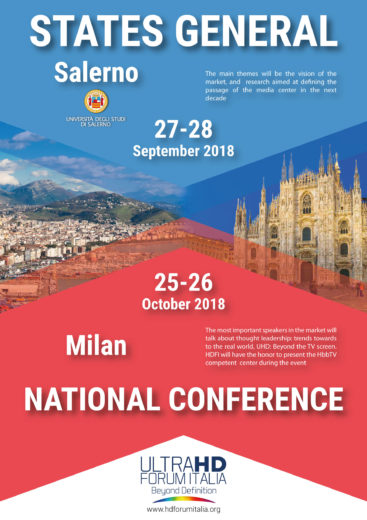 The meeting was designed to project the Association over the next 10 years through an industry study, developed in collaboration with the international research company IHS Markit and the active debate among the Associates.
The intention is to reveal the elements that will guide the evolution of the audiovisual communication sector in the next decade and will allow the Forum to be prepared to renew its commitment to new technological challenges. The trends of the digital age of the media will be studied in relation to the current technological scenario and with respect to the evolutionary projections that the industry, broadcasters, distribution operators and the supply chain will all want to compare.
The event will see the contribution and participation of important sector players:
the prestigious University of Salerno – Department of Computer Science and Electronic Engineering, which will host the first day of the event at the "Campus Fisciano" and will support the research of HDFI also contributing with the studies that the same university has already undertaken with respect to the evolutionary technologies of audiovisual.
Representatives from the 25 member companies will be attending, who will focus their interventions on the trends to be undertaken for the transformation of HDFI. The outcome of the General States will be elaborated and presented at the Annual Conference of HDFI which will be held in Milan on 25 and 26 October 2018.